Andrew Bell
Independent non-executive Director and Chairman of the Board of Directors, member of the Audit & Management Engagement Committee and the Nomination Committee
Andrew is a Director and Chief Executive Officer of Witan Investment Trust plc and responsible for the overall management of Witan. Prior to 2010, he worked at Rensburg Sheppards Investment Management Limited as Head of Research and as an equity strategist and Co-Head of the Investment Trusts team at BZW and Credit Suisse First Boston. Prior to the City, he worked for Shell in Oman, leaving to take a Sloan Fellowship at the London Business School. He is a non-executive director of Henderson High Income Trust plc and was Chairman of the Association of Investment Companies from January 2013 to January 2015.

Rudolf Bohli
Rudolf is Chairman of the Nominating Committee.  He currently serves as Chief Executive Officer and Chief Investment Officer of RBR Capital Advisors AG, an independent investment advisor that focuses on equity investments in continental Europe. Previously Mr Bohli served as Head of Research at Bank am Bellevue, an independent financial group domiciled in Zurich and listed on the SIX Swiss Exchange.

Jonathan Davie
Independent non-executive Director of the Board, Chairman of the Audit & Management Engagement Committee
Jonathan currently serves as a non-executive Director of Hansa Trust Plc and Persimmon Plc. He is also Chairman of First Avenue Partners, an alternatives advisory boutique, and non-executive Chairman of Econiq Limited. Previously, Jonathan qualified as a Chartered Accountant and then joined George M. Hill and Co. The firm was acquired by Wedd Durlacher Mordaunt and Co. where Jonathan became a partner in 1975. He was the senior dealing partner of the firm on its acquisition by Barclays Bank to form BZW in 1986. Jonathan developed BZW's Fixed Income business prior to becoming chief executive of the Global Equities Business in 1991. In 1996 he became deputy Chairman of BZW and then vice Chairman of Credit Suisse First Boston in 1998 on their acquisition of most of BZW's businesses. Jonathan focused on the development of Credit Suisse's Middle Eastern business, subsequently retiring from Credit Suisse in February 2007.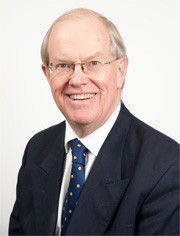 Richard Fitzalan Howard
Richard is Executive Chairman of FF&P Asset management Limited, having previously been chief executive officer for 10 years.  Richard joined Fleming Investment Management in 1975 and held a number of senior positions in London and New York.  Richard is also a non-executive director of JP Morgan Smaller Companies Investment Trust Plc and a director of CCLA Investment Management Limited and the Dulverton Trust.

Kasia Robinski
Ms. Robinski is a member of the Audit and Management Engagement Committee. She is an Operating Partner at Hanover Investors, where she leads investor relations and is an Investment Committee member. Previously, she was a partner at Prospect Investment Management, where notable deals included PayPoint, Message Labs (sold to Symantec), and UK-SH (sold to Care UK).  Ms. Robinski has 25 years of experience in investment banking and private equity, including with Goldman Sachs, CSFB, and the Sutton Company (now Sutton Trust).  She has served on numerous international boards and has undertaken various operating roles, typically CFO or CEO, in a broad range of business sectors from media through to oil and gas. Ms. Robinski holds an MSc degree in Engineering/Economics from Cambridge University and a MBA from the Stanford Business School.